Scuba diving doesn't need to be relegated to saltwater locales, there are freshwater sites around the world where you can see amazing things. While the salty depths provide vibrant, colorful vistas, freshwater diving offers unexpected sights and new perspectives.
Clean, clear water
10. Lake Baikal, Siberia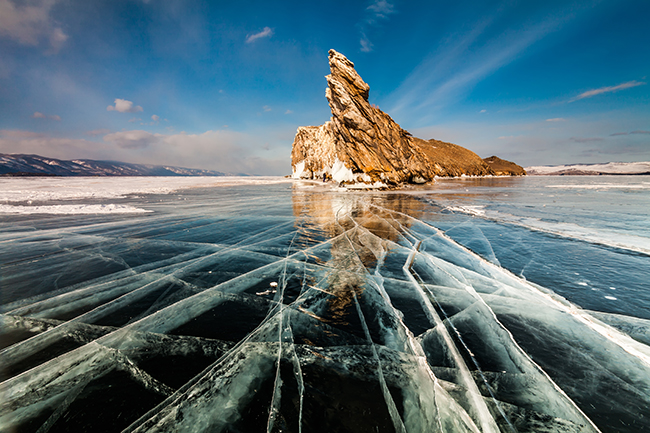 For a chilling experience, why not do some ice diving in Russia? Take a trip to Lake Baikal, the second largest body of fresh water on the globe. Setting out from the village of Listvyanka, you will be swept into temperatures of -22 °F – (-30 °C). Seals peep up through the waters, daring you to get in.
As you gear up to enter the freezing cold waters hidden beneath the ice, the winds whip around you. Once your mask breaks the surface of the water you are taken to a completely different world. Kept warm and cozy in your drysuit, you are surrounded by icy blackness and shadowy figures, a peaceful yet intimidating scene. The unique and incredible ice formations you will see will blow you away.
If you come during the warmer months, you will be treated to a world that is relatively unexplored. Bizarre corals and rock formations are frequented by weird coldwater fish. Even in the summer, water temperatures are cold, and while wet suit diving is possible, dry suit diving is recommended.
The dive shop at Lake Baikal offers certifications in ice and dry suit diving, in addition to many others. There is also a liveaboard option for those who want a fuller experience. The cruises can last anywhere from 2 to 12 days, and you can do up to four dives a day.
9. Mermet Springs, Illinois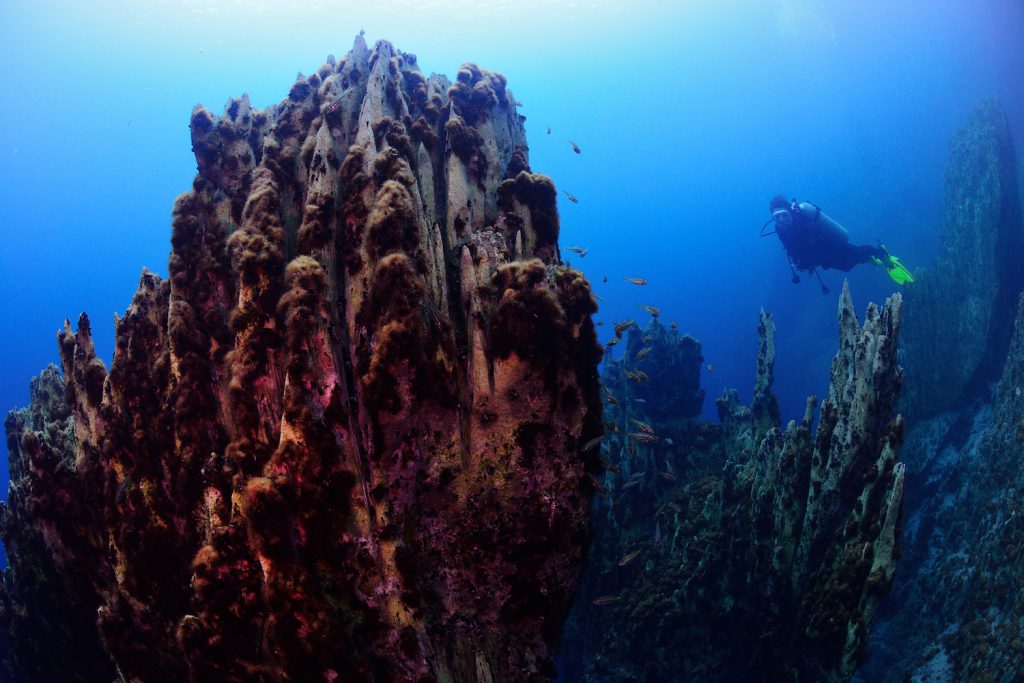 There aren't too many places in the world where you can dive in a sunken Boeing 727. In Mermet Springs, Illinois, you have just such a chance. The massive jet was sunk for the film "U.S. Marshals" in 1998, and has since been opened to the public for recreational diving. At this site you can also see two other small airplanes, and you can even swim through a school bus!
The plane's tail is found at only 15 feet (4.5 meters), and because the jet rests on an incline, the nose sits at 50 feet (15 meters). Because of its shallow depth, this makes for a great dive any diver, from beginners to tec. This is a great place to pick up some certifications.
There is a dive shop on site that is open year round, as well as a small town with restaurants and hotels. All you need to enjoy a weekend away is at your fingertips. St. Louis and Nashville are only a couple of hours from here, so Mermet Springs makes for a great day trip.
8. Capo d'Acqua, Italy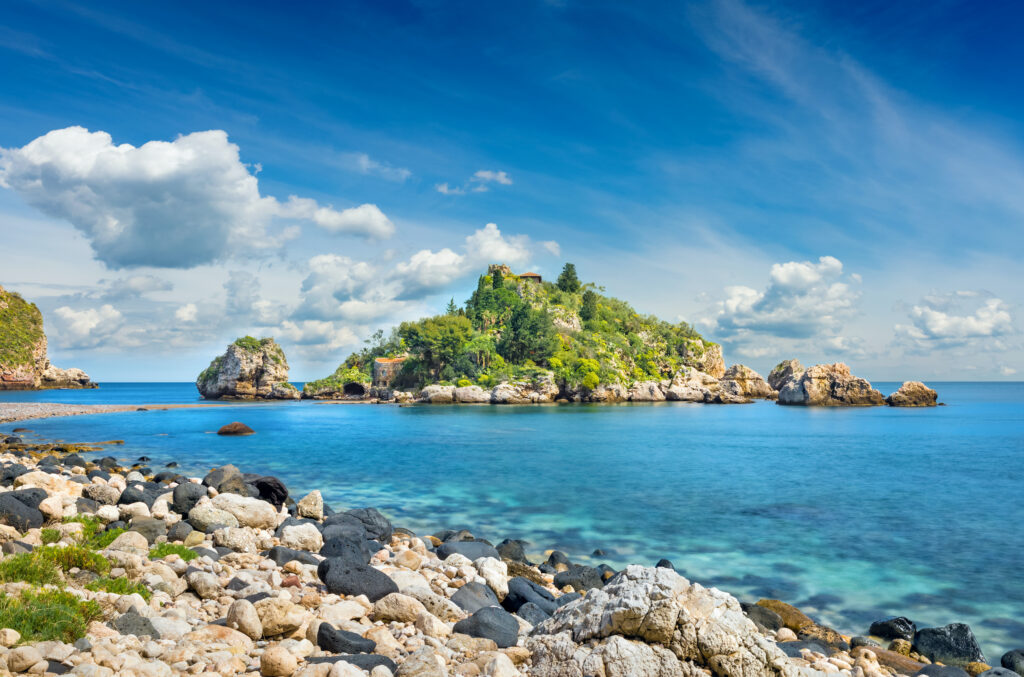 Ancient structures from the Middle Ages sit silently beneath a lake in Italy, situated in the Parco Nazionale del Gran Sasso e Monti della Laga. Found near the small town of Capestrano, the village lies submerged. Though the lake lies on private property it is easily accessible. Permits are required to dive here, and can be obtained at the dive shop.
There are two mills and an old paint factory to explore. The first mill is more in ruins than its neighbor, but it still boasts the blades that once moved the millstones. The second mill is ornate, with gorgeous architecture. It was damaged in an earthquake in 2009, but the rooms and main structure is still in good condition.
Divers can expect visibility up to 230 feet (70 meters), and fantastic submarine flora and fauna. The unbelievable visibility is due to the fact that Capo d'Acqua is a high altitude, spring-fed lake. You can see fario trout, and other small creatures scuttling among the submerged trees and houses, twisting down quaint boulevards.
7. Freshwater Caves, Florida
Another great location to search out some cave dives is in America's south. Ginnie Springs is tucked into Florida's northwestern corner, an unexpected and awe-inspiring dive site. The caves at Ginnie Springs are great for beginners, as there is endless visibility and wide passageways. The limestone formations are gorgeous, especially in the region of the cave referred to as the Ballroom.
Near Williston, Florida, the Blue Grotto is a warm cave with crystal clear water. You can dive straight down into the deep cavern, and experience the gorgeous nature in the caves within. With precarious rock formations, fragile from eons of erosion, diving in the cave is a dreamlike experience. No matter your diving level, you will come across fascinating highlights.
Florida also boasts Crystal River, a gorgeous river that winds through the mangroves. Here, you can dive with manatees. Gentle and docile, manatees are also known as sea cows. For the best encounters, visit from November through March.
Many other freshwater cave systems are found in the Suwannee River Valley, and some others can be encountered in the Panhandle. Telford Spring is a particularly memorable spot.
6. Okavango Delta, Botswana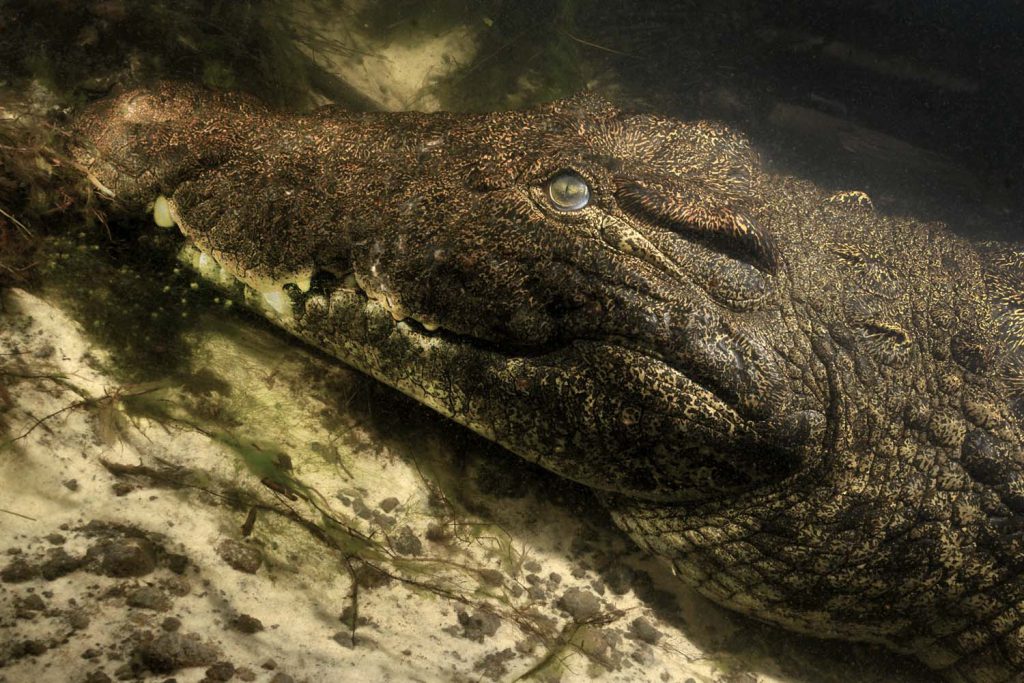 For a scuba diving experience that is sure to get your adrenaline pumping, head to the Okavango Delta in Botswana to dive with Nile Crocodiles. Beneath the dark waters of the mighty Okavango River these intimidating reptiles lie in wait. Free diving with Nile Crocodiles is no laughing matter, so it is highly advised that only experienced divers attempt this dive.
The adventurous dive company will pick you up from the airport and take you on a six night safari adventure. You will head to Ikoga Island, where you will reside for the next five nights. You stay in an individual dome tent that is spacious is comfortable. There is a tent for dining, as well as a tent where you can charge your electronics and camera equipment.
Out on the water, guides "hunt" for crocodiles. Once they are spotted, you are sent into the water. You can get up as close to the massive reptiles as you dare, but please remember that these crocodiles are 100% wild. If you can muster up the courage to take the plunge you will be rewarded with unbelievable photographs and memories to last you a lifetime.
5. Silfra, Þingvellir National Park, Iceland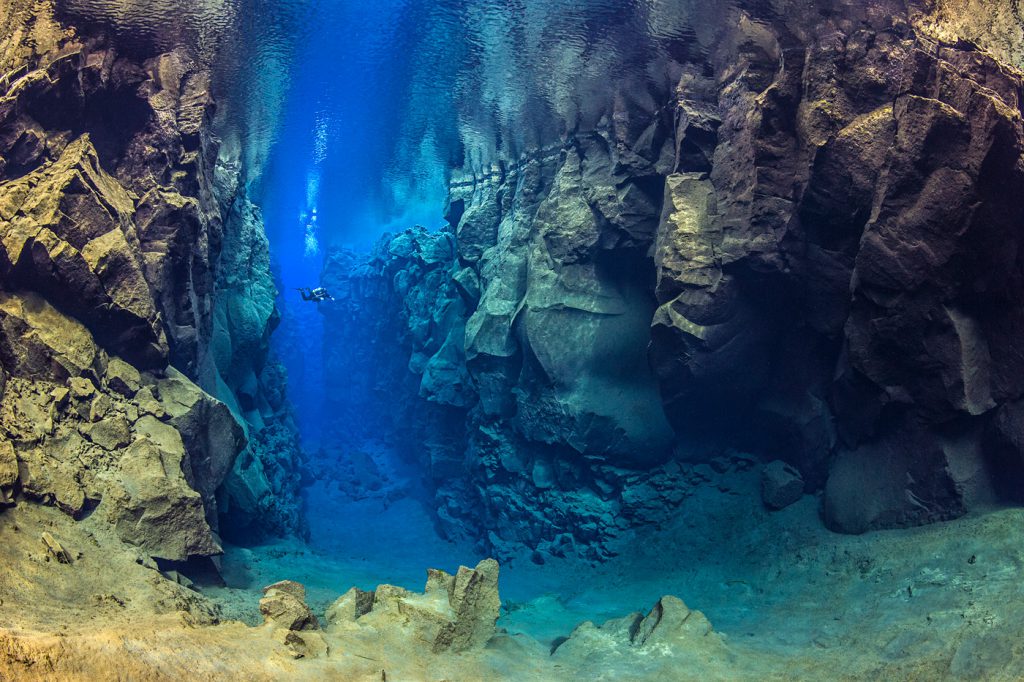 Cold and quiet, the Silfra fissure is a dive unlike any other with views that last forever. The area is known as the "Big Crack," and is not to be missed. Fed by glaciers, the cold water creates a current within the fissure, carrying you through the rock outcroppings and steep walls. Within the crack, you are between two of the massive tectonic plates that created the continents we know today.
Lowering yourself into the fissure is an incredible event. The visibility reaches 330 feet (100 meters), making you feel as if you are floating around in an alternate reality. Jagged rocks stack beside you, and the beautiful blue chasm before you seems to never end.
Your tour leaves from Reykjavik, Iceland, where you'll head out into the Thingvellir National Park. Surrounded by the windswept tundra, the lake is a picture perfect sight. Geared up in your cozy dry suit, you'll lower yourself into the 40°F (4°C) water, where a unique geologic waterscape awaits you. There are three main areas that you can explore, where hollows form interesting formations.
4. Shi Cheng, China
Crystal clear Quiando Lake (Thousand Island Lake), is a huge manmade lake found in west China. When the Xin'an River was dammed back in the late 1950's, an entire valley was flooded. Within this valley was the ancient city of Shi Cheng, which became the Chinese version of Atlantis. Dating back to 25-200 AD, the only way to visit this city today is to dive 100 feet (30 meters) beneath the surface.
Interestingly enough, scuba diving is relatively new to Quiando Lake, so the ruins of Shi Cheng are ripe for exploration. Check in Shanghai to arrange a diving trip to this surreal destination to this amazing city that dates back to the Eastern Han Dynasty.
The lake itself is clean and refreshing, so much so that you can drink the water without treating it. Because of its clarity, it is even bottled by a Chinese water company.
3. Cenotes, Mexico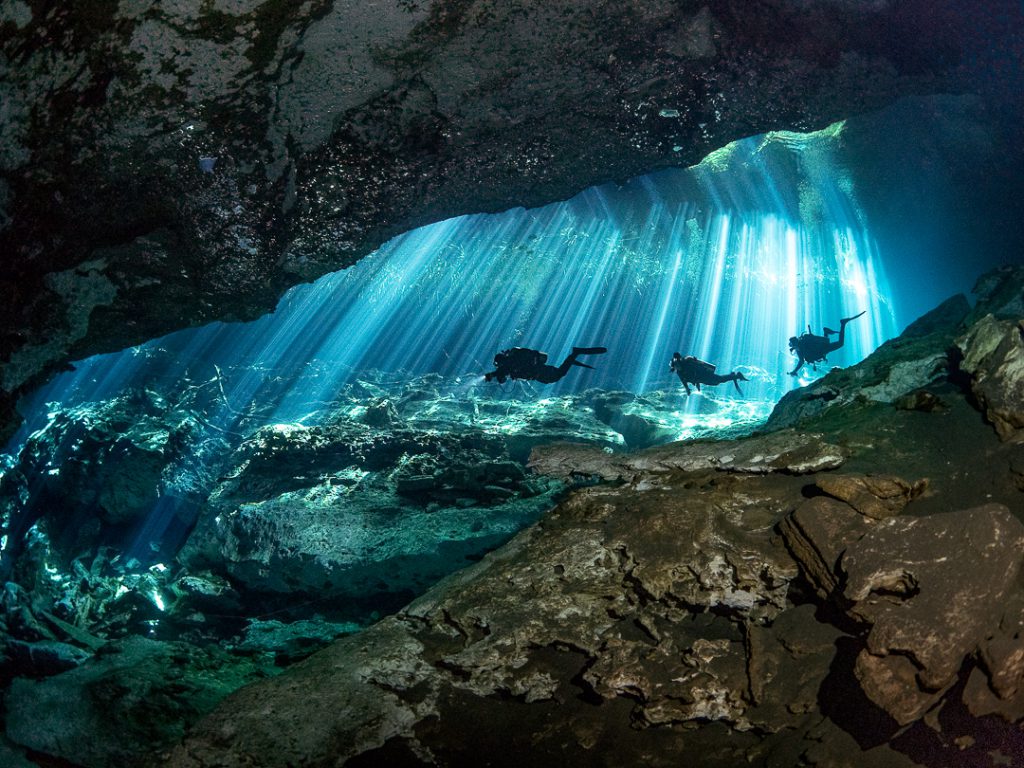 The Yucatan Peninsula in Mexico is riddled with a vast network of caves. Many of these caves are filled with fresh water with pools at their openings, and are surrounded by an expanse of jungled wilderness. Ancient Mayans once considered these impressive sinkholes to be a gateway to the underworld. Once you head into the caves themselves, you'll see why.
As the cool water envelopes you, you are taken to another world. You can make your way through the eerie passageways to mysterious rooms and openings. Air pockets sometimes form beneath the earth's surface, and you can stop and take a break, appreciating the unique darkness and solitude you can find within the quiet cave.
Some of the most beautiful cenotes are the Dos Ojos and Angelita:
Dos Ojos, Spanish for "two eyes," is an appropriate name for these stunning cenotes. Two cerulean blue cenotes interconnect with one another, making for an exciting dive. The bubbles that huddle together on the cavern's ceiling are reminiscent of pooling droplets of silvery mercury. Using your dive light, you can illuminate the stalactites and stalagmites, setting the scene for eerie underwater photography. You can even hear and see the bats that reside in one of the cenote's chambers.
Angelita is far off the beaten path, down a dirt road and jungle trail. The cenote leads to a tremendous cylindrical limestone formation, filled with endlessly transparent water. At the bottom of the cylinder, there is a murky hydrogen sulphide layer. As a team, you descend through the murky layer together, being reborn into a fresh bottom layer, clear and clean. The previously unexposed bottom reveals itself as a tangle of tree limbs and rocks. Haunting and beautiful, Cenote Angelita is not to be missed.
2. Green Lake, Austria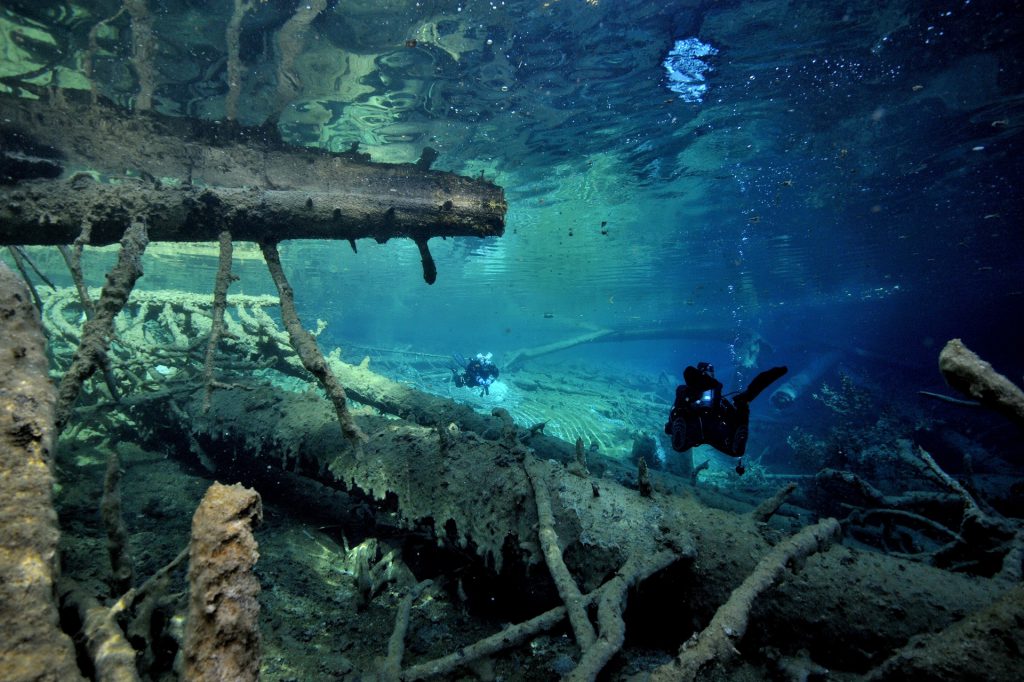 Known as Grüner See, Austria's Green Lake appears as if it is straight out of a dream. For most of the year, this mountainside valley is a park where you can hike and enjoy the alpine scenery. During the spring and summer, snowmelt filters into the park, filling it with 30 feet (10 meters) or more. Beneath the crystal clear water are trees, park benches, and even trout.
The surrounding area is a gorgeous mountain wonderland. Tragoess, a small town is nearby, where you can explore traditional Austrian culture. Towering peaks surround the lake/park, making for some remarkable scenery in this high-altitude environment.
There aren't many places where you can swim along the same trail that you hiked on several months earlier. Bring your underwater photography equipment to snag some unforgettable photographs.
1. Verzasca, Switzerland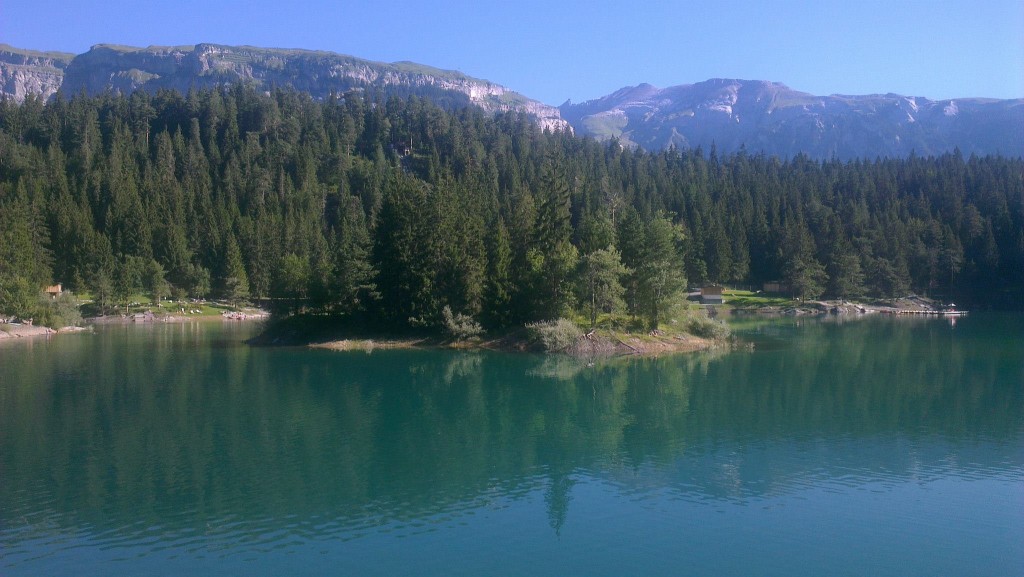 For some unbelievable current diving, head to the Verzasca River, hidden in the mountains of Switzerland. Centuries of water flow have sculpted the riverbed, creating wildly warped stone walls. Diving in the crystal clear waters of the River Verzasca, you will see interesting creatures and otherworldly rock formations.
The surrounding mountains are covered in snow until June, so come in the summer when the water temperature reaches around 50°F (10°C) for a truly comfortable ride. Snowmelt in the spring can lead to dangerous river conditions, so stay posted and plan your dives according to the weather. For the absolute best conditions come when the weather has been clear and stable for a couple of days, as there won't be any silt washed down from the mountain streams.
One famous location is the Roman Bridge, where a gorgeous bridge spans the river. From below you can see epic views of the rocky chasm and bridge above. Amslerbecken is another great site, where the stones have been smoothed by time. The dive is named after a famous photographer, so be sure to bring your camera with you.
Unique freshwater destinations
Diving in freshwater is a much different experience than salt water diving. You can see man-made masterpieces, ancient underwater civilizations, and cave systems that stretch for miles. Weird and wonderful creatures await you, hiding in matchless formations. Open your mind and your dive book, and head to some of these outstanding freshwater dive sites.
This blog was originally written by Bridget Pearson and published on the Diviac Magazine.