Dugongs: the gentle giants we love and seek out. If you've always wanted to see, swim, or dive with dugongs, you've come to the right place. This is the complete guide to everything you need to know about how and where to go to dive with dugongs.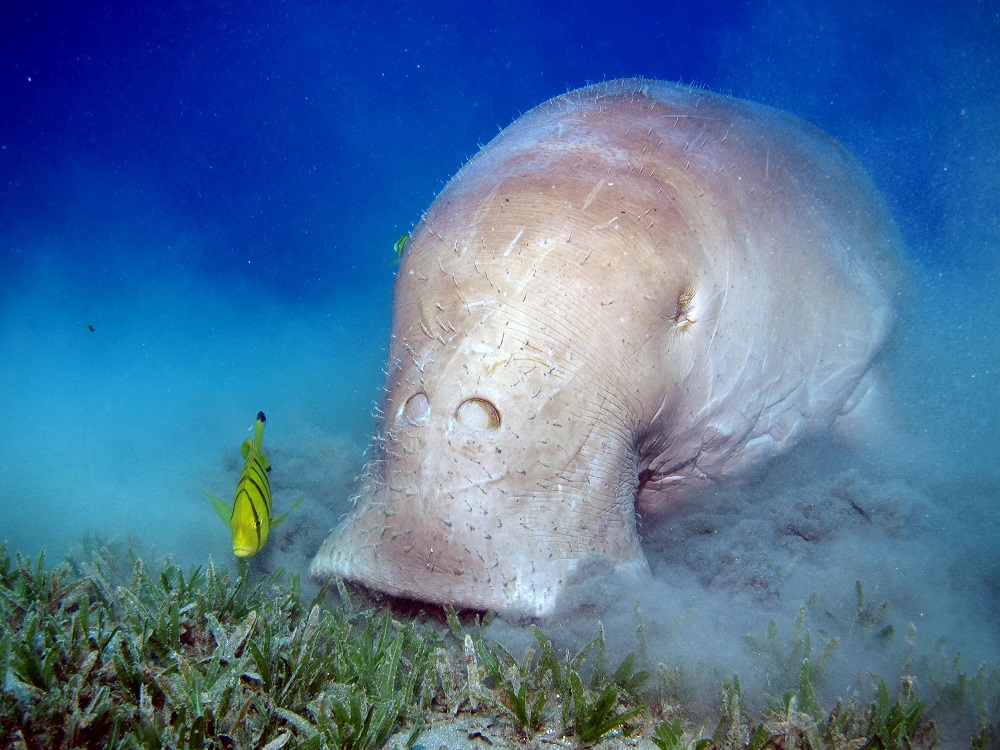 Interesting Facts About Dugongs
If you're a fan of the famed and majestic mermaid, you'll be excited to learn that dugongs are named after the Malay for "Lady of the Sea".
Both manatees and dugongs are lovingly called 'sea cows'; however, they're actually a different species altogether! They are similar in that they are both in the Sirena family, and they do live in similar habitats. But, it's important to note that dugongs prefer saltwater, and manatees actually reside in both saltwater and freshwater environments.
Dugongs are herbivores, which means that they only eat plants, and actually, their dietary regimen consists of exclusively sea grass. Often compared to vacuums, dugongs may consume up to 88 pounds (40 kilograms) of grass in a single day. While eating, they tear a wicked channel through the sea grass meadows and hold their breath up to 11 minutes before heading up to the surface for a breath of oxygen. They will swim down to 33 meters, if necessary, to secure a meal.
Dugongs could be called overindulgent, in that they can weight up to 2,000 pounds (900 kilograms), and grow up to 11 feet (3.5 meters). But, they must be doing something right, as many live over 70 years and can be aged by scientists, who count the rings on their tusks, similar to an elephant or a tree trunk. Interestingly, elephants are the closest species to the dugong on land. However, female dugongs only grow tusks in their elder years, while males grow tusks upon reaching maturation.
Dugongs are known to have incredible hearing, but lack in eye sight. They need their hearing because they communicate with fellow dugongs by chirping, squeaking, trilling, and even barking like a dog!
These sea cows can be spotted in about 37 countries worldwide. The most expansive population of these marine mammals are found in Australia, with a population of about 80,000 to 85,000.
Ready to jump in to the top destinations to swim and dive with dugongs around the world? Come on, let's go!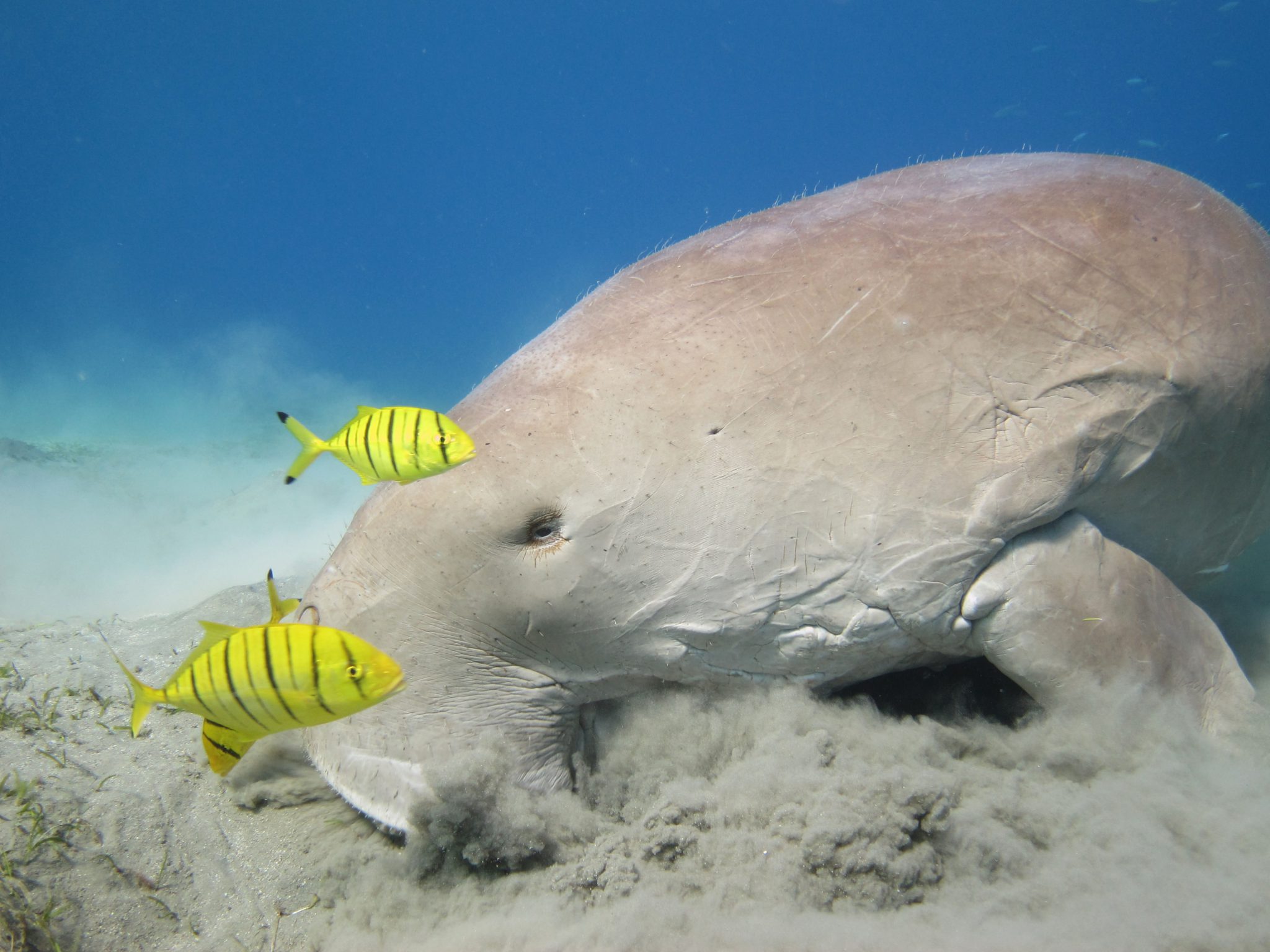 Best Destinations for Swimming and Diving with Dugongs
Read to dive in with dugongs? Keep reading for the best destinations for diving and swimming with dugongs.
Marsa Alam, Red Sea, Egypt
If you're dead set on spotting a sea cow, Egypt is the place to go. The coast of Abu Dabbab is known as a dugong hot-spot, as it's a shallow, marshy area with plenty of sea grass – the perfect habitat. This area is about a 30 kilometer trek from Marsa Alam and can be reached by a short, 30-minute car ride.
The pique time to book Marsa Alam is between October and May.
Book a Dive Resort in Marsa Alam
Coron, Philippines
Fly into Coron Busuanga and then take a day trip up the coastline to Calauit and Dimipac Islands. This is the best area of the Philippines to spot dugongs. The Philippines is known as one of the best diving destinations in the world, so be sure to stay and see more of the best dive sites.
While you're in this area, don't miss the Dimakya Island Marine Sanctuary to dive with an abundance of turtles and other species, which have been under protection by the sanctuary for over 18 years.
Visiting Coron is a great trip year-round, so there is no "best season" to book.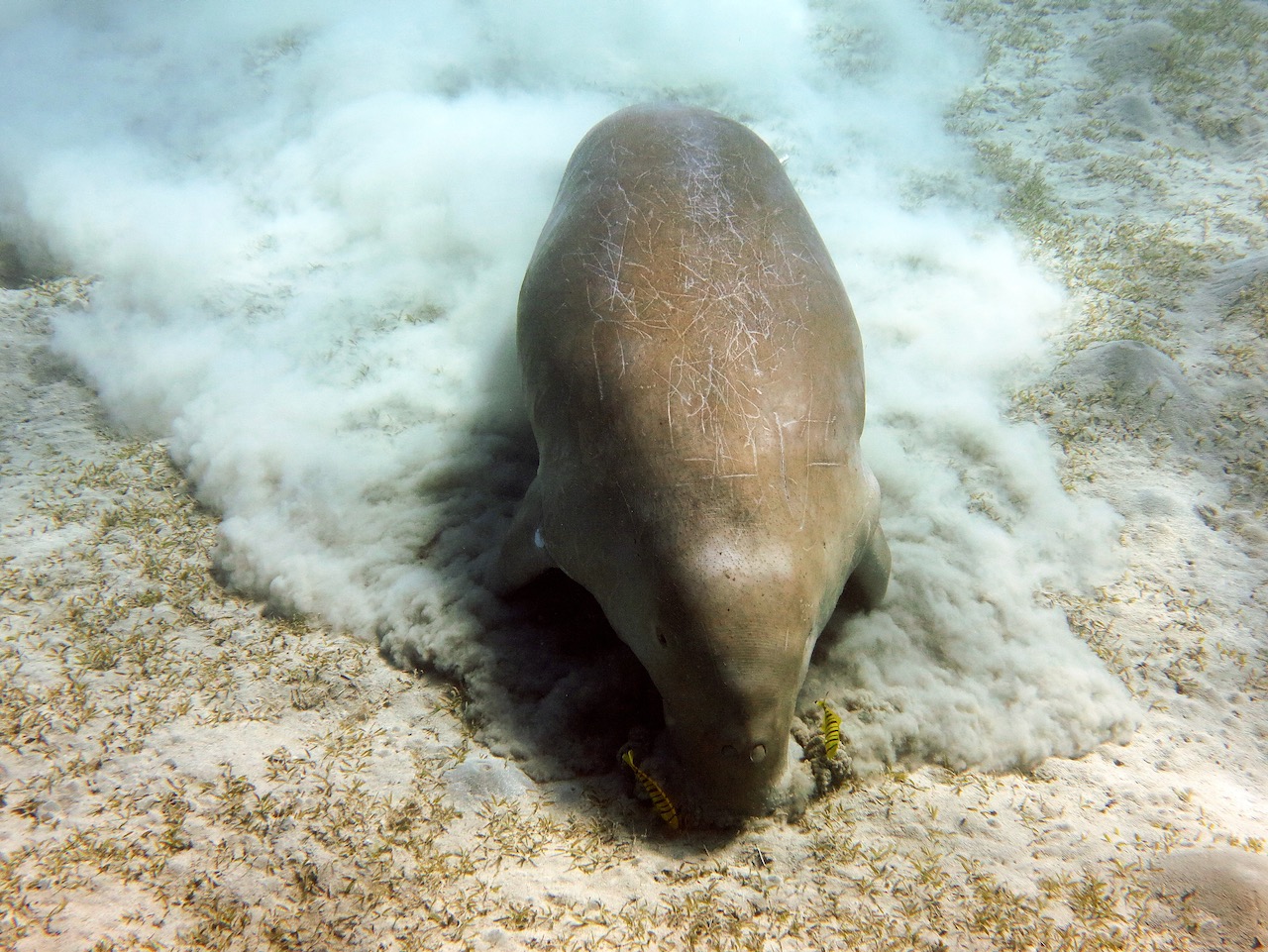 Bahrain
Dugong sightings on the Bahrainian coast are very rare, but they are rumored to reside east of Bahrain and Qatar.
Whether you're lucky enough to spot a sea cow or not, Bahrain doesn't disappoint in the marine species department. You'll likely see groupers, clown fish, barracudas and sometimes even whale sharks!
The best time to plan a trip to Bahrain is from December to February.
Andaman Islands, India
Interestingly, the dugong is actually the state animal of Andaman. Unfortunately, they are now very scare in the area due to poaching.
Because of this, it's rare to spot a dugong in India; however, they have been spotted in the Gulf of Mannar, Gulf of Kutch, and the Andaman and Nicobar Islands. And, they're mostly spotted in Dugong Creek, located at Little Andaman Island.
The best time to book a trip to the Andaman Islands is between October and May.
Book a Liveaboard in Andaman Islands
North Sulawesi, Indonesia
North Sulaswesi Island is home to Bunaken National Park, which is a superb marine park, located in the center of the famed Coral Triangle in Indonesia. If you haven't heard of this spectacular area, the Coral Triangle is known as the home of over 390 coral species. As you can guess, this invites many other exciting species, which use the coral as their breeding grounds.
There are sea grass beds along the edge of Bunaken, and there have been many sightings of dugongs feeding in this area. Locals recommend visiting the park during a full moon, at high tide for your best chance at spotting one!
The best time to visit Indonesia is from March to October.
Book a Dive Resort in North Sulawesi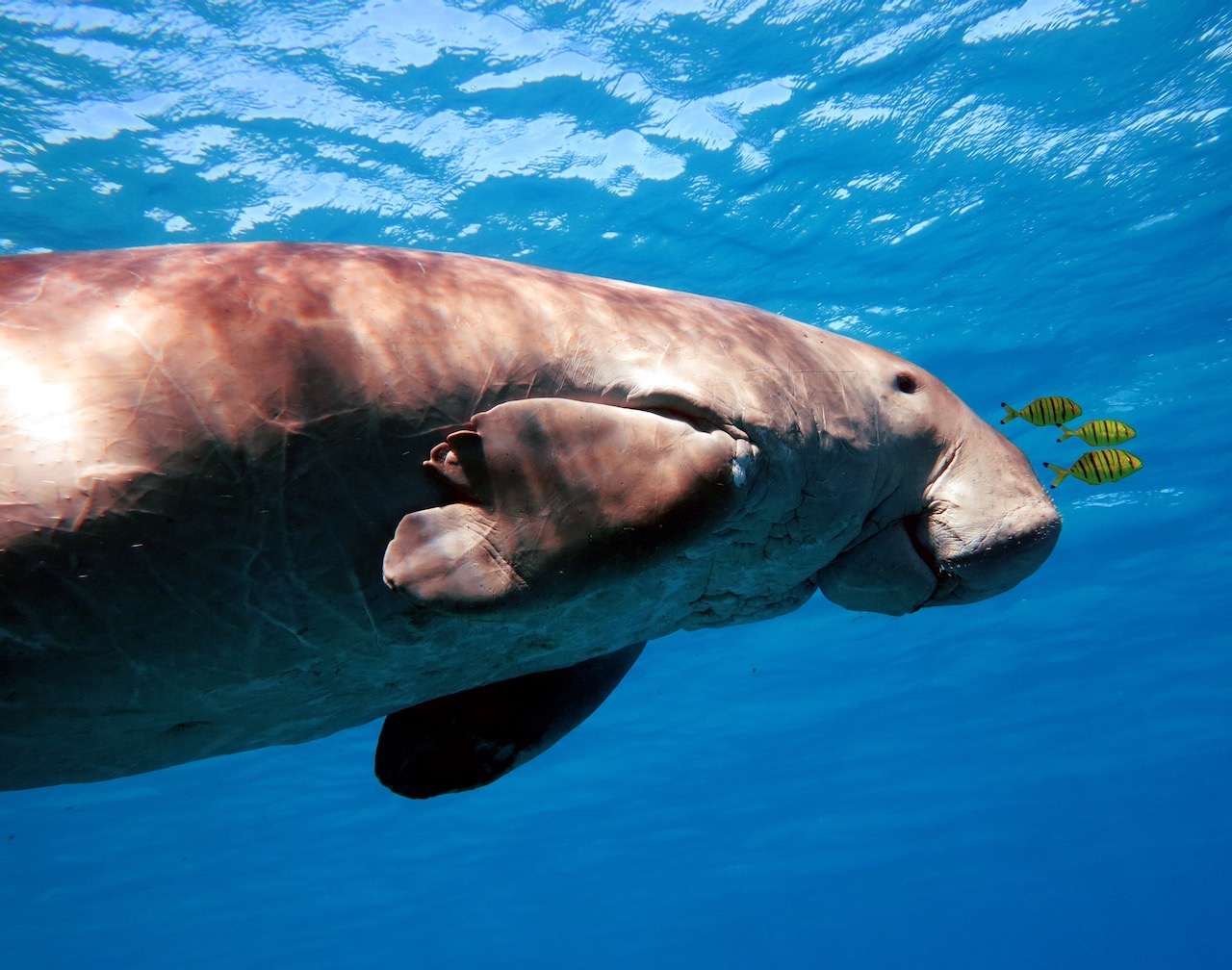 Great Barrier Reef, Australia
As previously stated, the largest population of dugongs in the world call Australia home. For the best chance at spotting a sea cow, make sure to visit Ningaloo Reef, and the area near Moreton Bay, both in the Queensland state of Australia.
It's no surprise that this would occur in the famed Great Barrier Reef, a World Heritage site, which is rich in many species and is a bucket list dive regardless of dugong sightings. Between the culture and the wonderful wildlife, Australia won't disappoint!
The best time to book a trip to Australia is from December to February.
Book a Liveaboard in Australia
Efate, Vanuatu
A trip to Vanuatu is definitely an adventure! You'll land in Malekoula, then jump into a banana boat, which will take you out to the Maskelyn Islands. This is the best area for a sighting of the elusive dugong.
Unfortunately, sea cows have been hunted here for meat and oil, as a traditional part of their culture, so they are limited in population. Luckily, some areas are enforcing restrictions, or "tabu", to help protect these graceful animals.
Booking a trip to Efate is incredible year-round, with exception of their off-season in February.
Book a Liveaboard in the Pacific
Palau, Micronesia
Palau is famed world-wide for its stunning underwater environment, which makes it a top destination for divers. However, most people don't realize that it's also home to the world's most secluded population of approximately 200 dugongs. These marine mammals can be spotted in all of the waters surrounding Palau, except for the southwest islands of the country.
The best time to book a trip to Palau is between the months of December and April.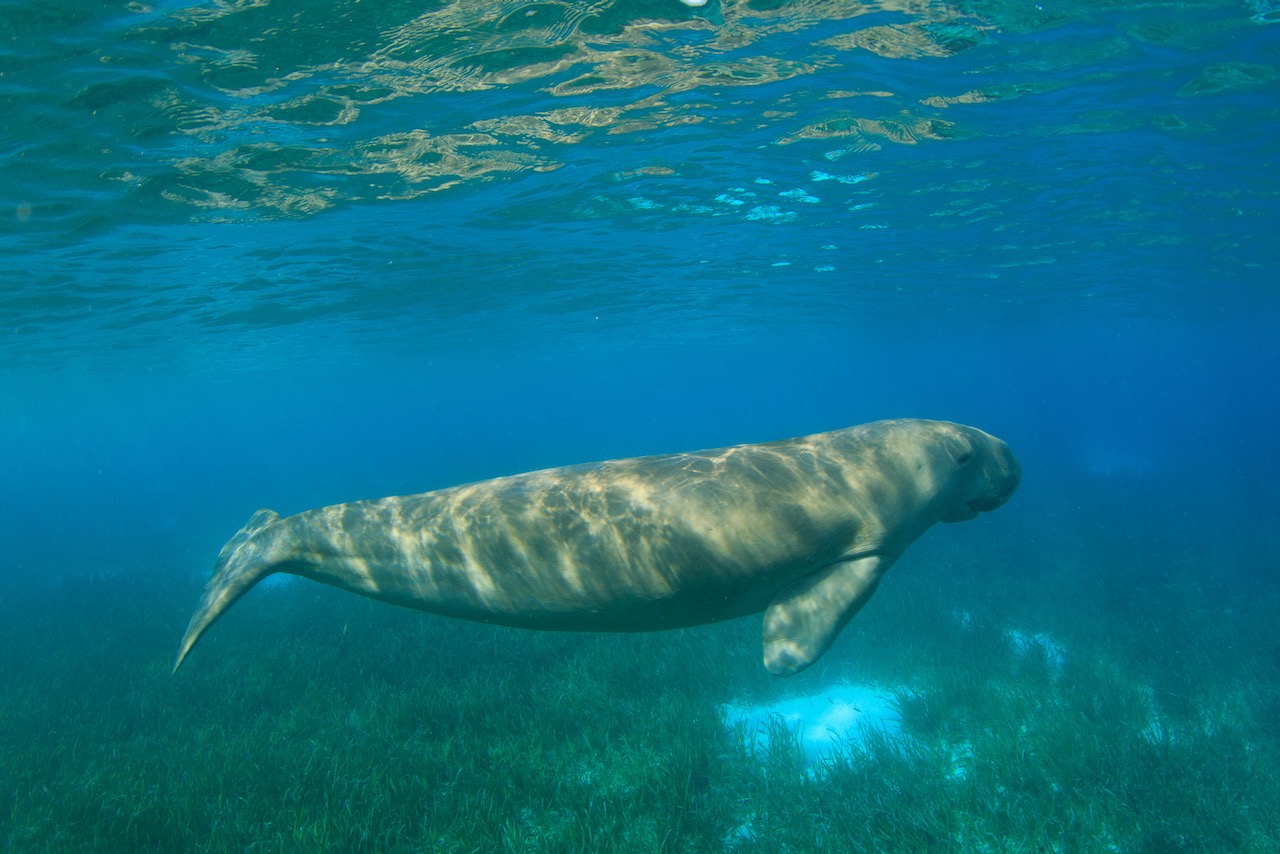 Raja Ampat, Indonesia
Raja Ampat is known worldwide as an excellent dive spot, especially for manta rays and coral reefs, but it may come as a surprise to some that dugongs can also be found in this marine habitat. The best spot to encounter dugongs here is between the Kri and Mansuar Islands, where there is a ton of sea grass in shallow, protected water.
Raja Ampat is a great destination to book year-round.
Book a Liveaboard in Raja Ampat
Timor-Leste
Timor is often a lesser-known country, but packs a punch for adventure. You can experience untouched coral reefs, beautiful mountains, an ancient culture, and of course, dugong sightings.
There are many admirable dive sites in which to spot dugongs, however, our favorites are: Secret Garden, Roda Reef, and Tasi Tolu.
There is excellent diving year-round in Timor, so there is no "best time" to book.
Kalpitiya, Sri Lanka
Kalpitiya is very well-known for its dolphin and whale encounters; however, there is a magnificent opportunity to spot the lesser-known dugong while traveling here. The seagrass habitat of the Gulf of Mannar and Palk Bay provide the majority of dugong sightings in the area.
The Dugong and Seagrass Conservation project has set aside a large marine protected area to aide in dugong conservation in this area.
Dolphin, whale, and dugong sightings can be experienced primarily from November to May.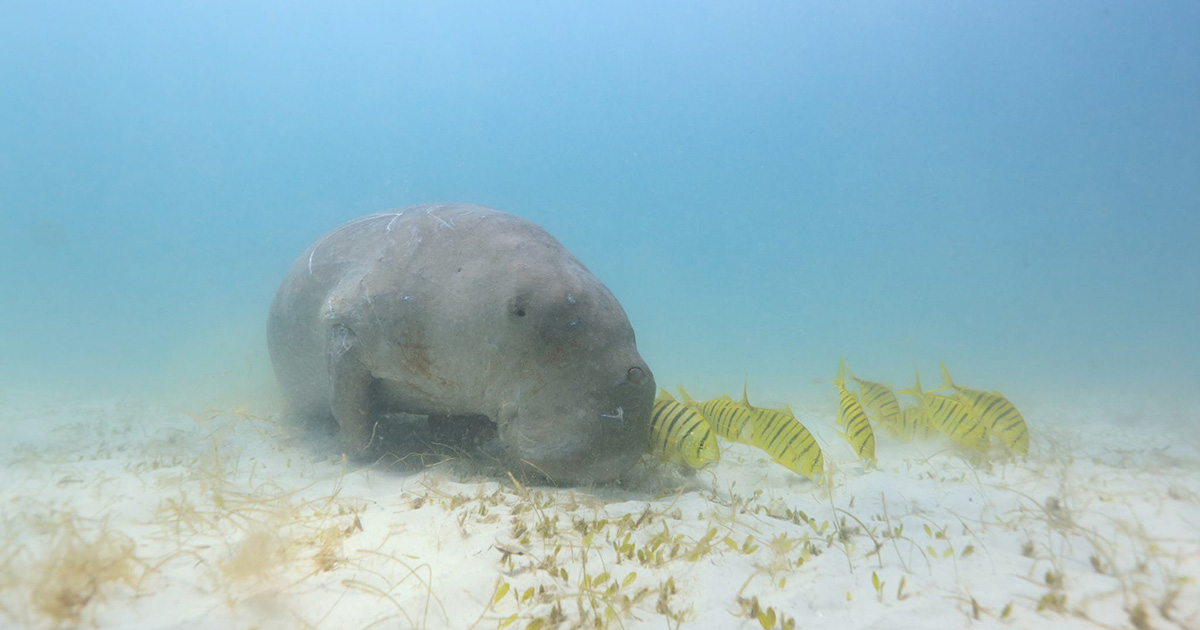 How To Safely Swim and Dive with Dugongs
Before you dive in with dugongs, there are few things to know for your safety and the safety of the animals.
Are you supposed to touch dugongs?
No. Remember never to touch any marine life during water sport excursions. Because sea cows are technically listed as vulnerable and even endangered in some regions, they're actually protected by law in most countries. But not to worry, most tour guides will tell you all of the rules for the area you're in during your experience briefing. If you're in a marine park or protected area, the rules will likely be more strict, but it's for the protection of the animals, so this is a positive thing.
Dugongs are Listed as Vulnerable – Why?
You may be shocked to learn that sharks and crocodiles actually eat dugongs. However, human activities are the main reason for their vulnerable species status. Because of habitat loss due to construction, getting caught in fishing nets, and hunting in many countries, their populations are steadily shrinking in size. In fact, dugongs are listed as Vulnerable on the IUCN Red List of Threatened Species.
The main reason that all of these threats have caused such an issue for these beautiful marine mammals is because they have a very slow rate of production and the longevity of the species. This means that they only have one baby calf at one time. And, if there is a lack of sea grass in their habitat, they delay breeding. In prime conditions, dugong populations would only increase by five percent in one year.
Best Practices to Swim and Dive with Dugongs
Dugongs are a beautiful and fragile species. This means that we must interact with them with the upmost care. Let's look at a few components of best practices for swimming and diving with dugongs:
Make sure to keep a safe distance and stay quiet to ensure the animals are comfortable. Move slowly and the sea cows will continue to eat seagrass, which will allow you to take photos. Practice "passive interaction", meaning that you let them initiate any sort of interaction first. You're on their turf. Be mindful of your fin kicks (and bubbles if on scuba), as to not accidentally disturb them.
And finally, consider taking an eco-dugong tour that aides in the protection of this vulnerable species. Look for an operator that conducts their tours in the correct manner, so as not to put the animals at further risk of extinction.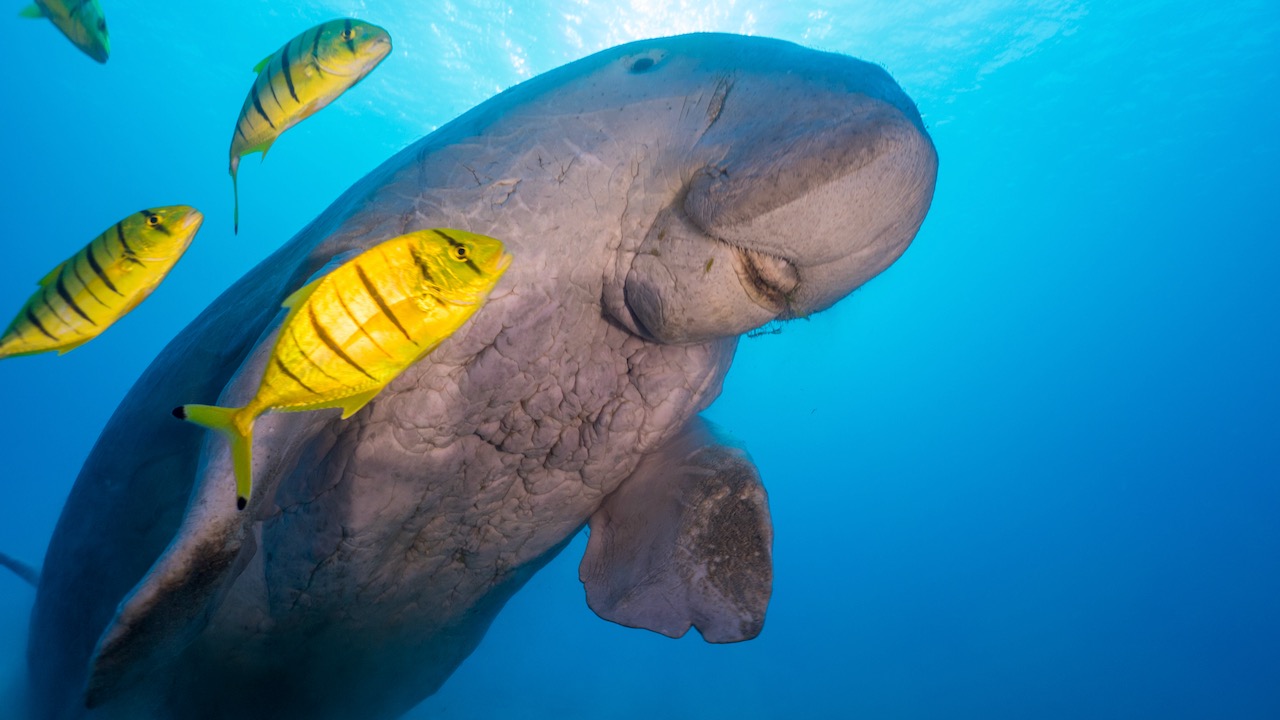 How Can We Help Protect Dugongs?
As we now know, dugongs are a vulnerable species, so let's talk about a few ways to help protect these animals:
Participate in trash cleanup events in your area. These can be in any wildlife area, such as a beach, a park, or a road. Avoid boating, kayaking, paddle boarding, swimming, or otherwise moving through shallow seagrass areas, which dugongs require as habitat and food. Check for conservation organizations in your area or abroad to volunteer with or to donate to.
The Dugong & Seagrass Conservation Project
is a great place to start.
Ready to Swim or Dive with a Dugong?
Experiencing and appreciating the elusive dugong is definitely a bucket list encounter. If the safety of these marine mammals is kept in mind, there are many gorgeous destinations across the planet to swim and dive with them. An essential ingredient for appreciation of our beautiful natural world is having meaningful interactions with it. I hope you create a delightful life-long memory with a dugong!
Let our experts at PADI Travel help you book the perfect trip!
Related Reading