Paul Gauguin Cruises - m/s Paul Gauguin - Polynesia



Paul Gauguin Cruises - m/s Paul Gauguin - Polynesia
Paul Gauguin Cruises operates the award-winning luxury cruise ship the m/s Paul Gauguin, which provides an exceptional cruise experience tailored to the unparalleled wonders of Tahiti, French Polynesia, the South Pacific, and Fiji. The m/s Paul Gauguin was built specifically to sail the waters of Tahiti, French Polynesia, and the South Pacific and is the longest continually operating year-round luxury cruise ship in this enchanting destination providing up-close, authentic experiences.
Exclusive Virtuoso Voyages benefit:
$100 USD Shipboard Credit Per Person
The Gauguin's SCUBA diving excursions are designed for all levels of experience. The Paul Gauguin is the only luxury ship in the French Polynesian islands to offer PADI certification onboard for novice divers.
m/s Paul Gauguin Virtuoso Special Sailings
Special Additional Savings June 25 - July 5, 2022 All Cabin Levels
Fiji, Tonga, Cook Islands, Bora Bora, & Tahiti
Interested?
We have the spring fling for all seasons on the m/s Paul Gauguin!
There's a tropical vacation just waiting to bloom for you: a heavenly sojourn across French Polynesia aboard the newly-renovated m/s Paul Gauguin. Enjoy savings of up to $1,492 on the following sailing dates:
Tahiti & The Society Islands | 7 Nights
March 26; April 2, 30, 2022 from only $3,578
May 7; Jul 23; August 13, 2022 from only $4,064
July 16, 2022 from only $4,316
August 20, 2022 from only $3,821
Don't Delay: this offer ends March 11, 2022. Reserve a spot now. For availability and pricing call us at 619-876-6343 or email This email address is being protected from spambots. You need JavaScript enabled to view it..
Not traveling this year? Grab specials for 2023 and 2024 before they are gone! Especially the better cabins on cruises and beach-front properties.
I can provide Virtuoso network accommodations with special pricing, upgrades, and credits to your trip. Email me for special offers at This email address is being protected from spambots. You need JavaScript enabled to view it. or call 619-876-6343.
Itineraries
The Society Islands and Tuamotus (11 days) Tahiti and The Society Islands (8 days) Marquesas, Tuamotus, and The Society Islands (15 days) The Cook Islands and The Society Islands (12 days) Fiji, Tonga, The Cook and Society Islands (15 days) Fiji, Tonga, The Cook and Society Islands (12 days)
What's Included in Your Cruise
Roundtrip airfare from Los Angeles or San Francisco*
Roundtrip airport/pier transfers*
All shipboard meals, in your choice of venues
Complimentary 24-hour room service
Complimentary beverages, including select wines and spirits, beers, soft drinks, bottled water, and hot beverages served throughout the ship
In-room refrigerator replenished daily with soft drinks, beer, and bottled water
All shipboard entertainment, including our troupe of Polynesian performers and live music in the evenings
Presentations by onboard experts and select sailings feature guest hosts
Onboard gratuities for room stewards, dining and bar staff
Watersports, including complimentary kayaking and paddleboarding from our marina or destination beaches
Use of our secluded, white-sand beach in Bora Bora with bar service, volleyball, and snorkeling (on select voyages)
A day on our private islet, Motu Mahana, off the coast of Taha'a, featuring snorkeling, watersports, a barbecue, full bar service, and Polynesian hospitality (on select voyages)
*Unless pricing specifically states cruise-only. Included airfare from Los Angeles or San Francisco is subject to availability. San Francisco airfare is applicable for flights to/from Papeete only.
Great Shore Excursions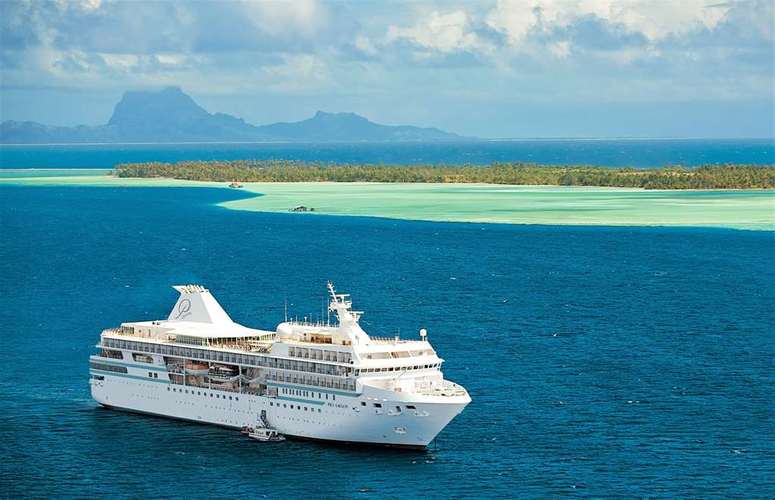 Paul Gauguin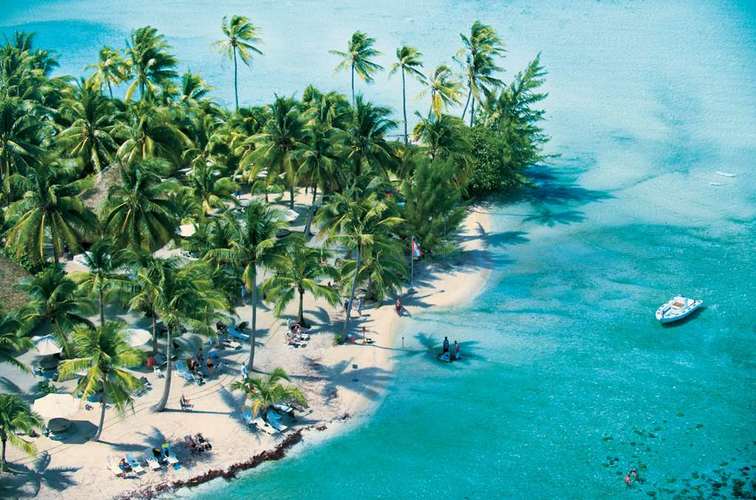 See the Great Shore Excursions!
Sustainability
At Paul Gauguin Cruises we care deeply about our guests, the destinations we explore, and the local people we meet on each of our adventures. We are dedicated to minimizing our environmental footprint and supporting local communities.
Cultural experts share their knowledge onboard through dynamic and entertaining lectures and presentations, and our troupe of cultural ambassadors, Les Gauguines and Les Gauguins, welcome guests to experience the local way of life.
We share French Polynesians' deep respect for our vast blue oceans, and our commitment to eco-friendly operations guides our activities both on and off the ship. Our environmental efforts include recycling, iTV system, e-tickets program, fuel conservation, reducing waste, using environmentally-friendly cleaning supplies, energy conservation, water conservation, reduction of plastic bottles, and using biodegradable straws with drinks. We also purchase local fish and produce in the islands.
Through our partnership with Te mana o te moana, a South Pacific marine education and conservation foundation, we offer the Moana Explorer family program on summer and holiday sailings which invite guests to discover and value the natural wonders of this breathtaking part of the world through hands-on, interactive learning. And, on select voyages, celebrated marine biologists, oceanographers, and conservationists share their knowledge.
Current Covid 19 Restrictions and Rules
Coronavirus COVID-19 - Travel Information
Papeete, April 15th, 2021
Travel restrictions to French Polynesia
Faced with the resurgence of COVID-19 cases around the world and in order to preserve French Polynesia which has for its part, shown significant improvement for several consecutive weeks, on February 3, 2021, the authorities decided to temporarily suspend travel to French Polynesia for tourists from all origins.
The President of French Polynesia made the official announcement during a press conference on Thursday April 15th, that The Islands of Tahiti will reopen gradually to tourism as of May 1. A new sanitary entry protocol will be specified in the coming days.
This reopening will be first extended to the countries identified with "limited epidemic risk" and for the time being, only the United States is concerned.
Travel from "countries with high epidemic risk" will remain restricted to the three compelling reasons (health, family, work) for the time being, as described on the website of the High Commission. The health situation in France and in Europe does not allow an opening at this stage; it will be necessary to verify the effects of their confinement that needs to be lifted by the national authorities before allowing the access to these markets.
All travelers aged 11 and over who travel to French Polynesia by air are subject to the following mandatory conditions:
Prior to boarding:
Proof of a negative RT-PCR test (any RT-PCR test listed on this FDA site is allowed) carried out within three days prior to their international air departure. If the result is not obtained in due time, a certificate of completion of the RT-PCR test must be presented to the airline company, together with a negative result to an antigen test performed on the day of boarding. Any antigen test listed on this FDA site is acceptable for the same-day test in the event the RT-PCR test result was not received. Self-tests are not accepted.
Present the receipt of the health registration from the Etis.pf platform (Electronic Travel Information System).
Present the certificate of derogatory travel HERE and the declaration on honour HERE completed and signed.
During the stay:
Every traveler is subjected to a 10-day quarantine in strict isolation in Tahiti only:
=> in a dedicated site at passengers' own expense:
The fixed financial contribution to the costs of the stay is fixed at 6,000 Fcfp per day and per person over eleven years old. This rate includes accommodation, three daily meals, health surveillance and transportation from the airport to the dedicated accommodation. Other expenses (telephone, dry cleaning, concierge service…) are the exclusive responsibility of the persons.
=> or at home:
The request for home quarantine must be completed 72 hours before the departure flight to French Polynesia by the passenger. Download the home quarantine request form HERE to be sent to the following address: This email address is being protected from spambots. You need JavaScript enabled to view it.
=> The traveler may request an exemption from the quarantine limited to Tahiti under the same sanitary conditions, when travel to another island can be carried out by private air, thus avoiding any contact with the population.
Carry out two RT-PCR test: 1st self-test on the 4th day of the quarantine and 2nd test on the 8th day. If your test is negative and you do not show any symptoms of COVID, you will be released from isolation on day 11. If your test is positive, you will be immediately contacted by the BVS and informed of the procedure to follow.
Prior to departure (returning in United States only):
Beginning January 26, 2021, the U.S. Centers for Disease Control and Prevention (CDC) requires all passengers 2 years of age or older on a flight to the United States, regardless of their immunization status, to present at check-in :
A negative result from a Covid-19 viral test carried out within 3 days prior to their international flight;
or, in the case of a previous Covid-19 infection within the last 3 months prior to departure, a positive viral test result, along with an official letter from a physician indicating that the passenger has made a full recovery and is authorized to travel;
The possible options for testing prior to departure are available HERE. For travelers who could not carry out their test before reaching the international airport, antigenic testing are available at Tahiti Faa'a Airport. Hours: Tuesday to Thursday from 12:00 p.m. to 4:00 p.m. and Saturday from 11:00 a.m. to 4:00 p.m. Travelers staying in the islands need to ensure to reach Tahiti no later than 4:00 p.m to have enough time to get tested at the airport's Covid Center.
Also, the authorities of French Polynesia have declared a state of health emergency with the application of reinforced measures through April 30, 2021.
A curfew is in effect on the islands of Tahiti and Moorea. All trips, circulation or movement in public areas are prohibited, every day, between 10:00 pm and 4:00 am through April 30, 2021 with the possibility to be extended. The official statement can be downloaded on the website of the High Commission. Find the curfew terms and conditions in the frequently asked questions.