Rich miles of the mountainous landscape and lush beaches make up the majority of the Mexican state of Baja California Sur. The best dive sites in Baja California Sur boast immense pelagic life year-round. Giant Pacific manta rays are now returning to grace the waters at the La Reina dive site from June to October, while colonies of sea lions splash around in Los Islotes year-round*!
Fang Ming, La Paz
Once a Chinese fishing vessel transporting undocumented individuals to California, the Fang Ming now rests on the East coast of Espíritu Santo Island. In 1999, the Mexican Navy donated the ship to be sunk as an artificial reef resting at approximately 21 meters (68 feet) in Baja California Sur. In fact, it was the first artificial reef in Latin America. Now, she is home to copious numbers of marine life, both big and small, including octopuses and a number of sea turtles.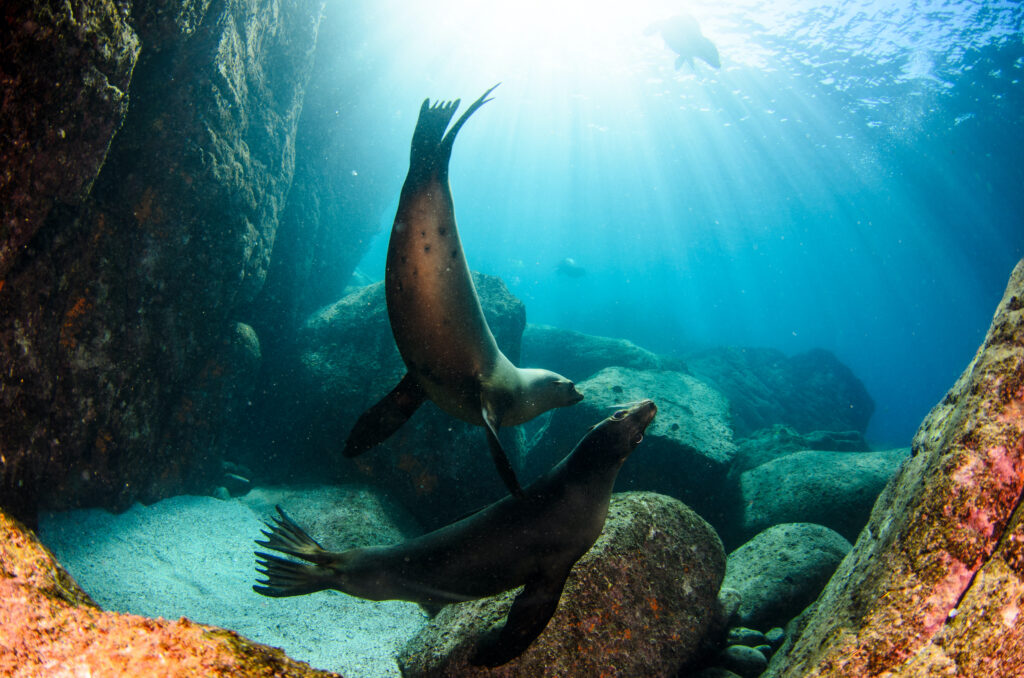 Los Islotes, La Paz
Los Islotes is one of the most famous sea lion colonies in the world with often over 400 Californian sea lions on site! This spot has two entry points. The northern side is a deeper entry, while the south boasts slightly shallow depths. The Los Islotes site also features a beginner-friendly cave, which both snorkelers and divers can swim through. Keep in mind that breeding season lasts from June 1 until September 1, and visitors to Los Islotes are not allowed to enter the water at this time, although you can still visit on a boat tour.
La Reina, La Paz/La Ventana
Between June and October, La Reina has once again become a hot spot for the giant Pacific manta rays! If you're lucky and visiting during the season, you might see one or two of these giant beauties, but this certainly isn't a guaranteed sighting at this time. The dive site sits on the northern tip of Cerralvo Island (aka Jacques Cousteau Island) and also boasts a densely populated reef, so it's worth a visit even outside of manta season. Brain corals and gorgonians encase the reef, creating hideouts for bright green moray eels.
El Vencedor, Cabo Pulmo National Marine Park
Cabo Pulmo Marine Park sits on the eastern coast of the Baja peninsula. This is a destination for the bucket-listers, many saying that everyone should experience it at least once in their lifetime! Schooling jacks are the main attraction in the park in general, forming a whirlwind structure of iridescent silver life that's truly a moment to remember. Not only are the number of jacks immense, but the El Vencedor wreck is famed for sightings of bull sharks, too.
Gordo Banks, San Jose del Cabo
Gordo Banks is a deep diver's best friend. At around 7 miles (11km) offshore from San Jose del Cabo, two seamounts emerge from the deep with their highest point at 31 meters (102 feet) below the surface. The structures are covered with black corals, but the major benefit of visiting this site is that the seamounts attract pelagic life.
The peak of the Gordo Banks seamount lures a marine cocktail of snappers, jacks and creole fish. Quick on their tail are predators: marlin, silky sharks, tuna and hammerhead sharks. With a backdrop of the deep blue, this is one of the best dive sites in Baja California for those who love a bit of adrenalin!
Pelican Rock, Cabo San Lucas
Pelican Rock sits a relaxed, five-minute boat ride from the marine in Cabo San Lucas. Both pelagic life and macro life at Pelican Rock are plentiful, pleasing even the pickiest of divers. The underwater pinnacle houses a circus of macro-life with nudibranchs, seahorses and frogfish. You might also spot large schools of sardines and the water birds that hunt them around the top of the pinnacle. And, just in front of the pinnacle, there's also a wall dive, which features the peninsula's famous sand waterfalls.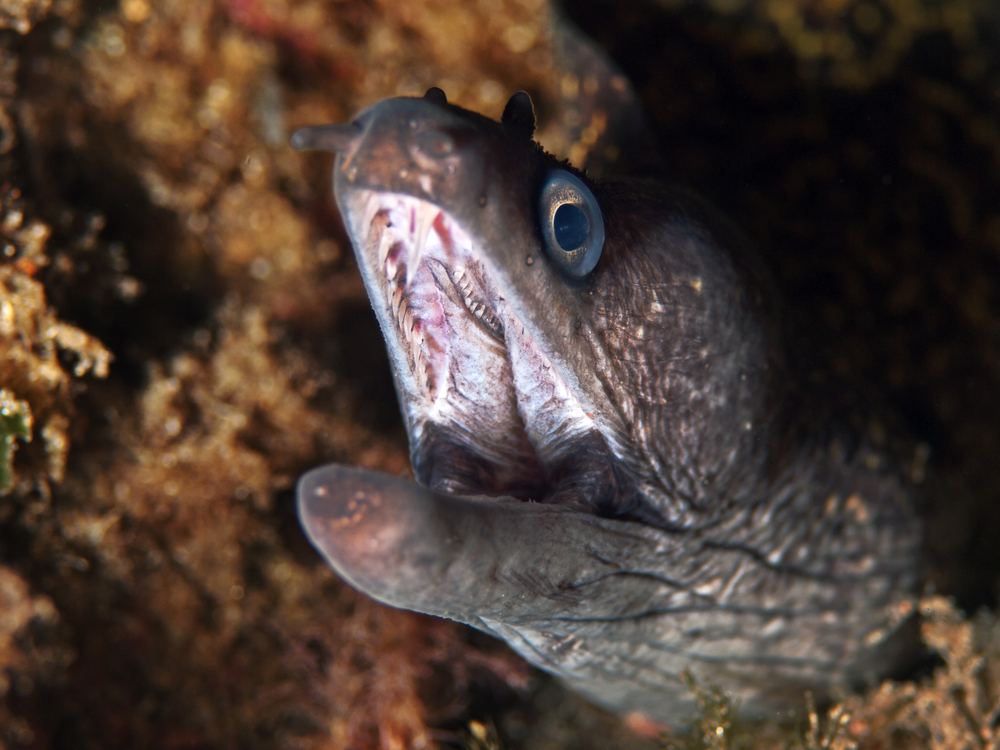 One of the exciting aspects of the Land's End dive site is that you can begin your dive in the Sea of Cortez and finish it in the Pacific Ocean, or vice versa. This quality makes it one of the unique best dive sites in Baja California! You may be able to enjoy whale song melodies here, also, as it sits right next to the Cabo San Lucas Arch – a hot spot for humpback whales in the winter months.
Land's End will take you through an underwater cavern and past smaller wreck remnants while spotting members of the resident sea lion colony. The site also houses a cornucopia of marine life, including octopuses and large schools of sardines!
Piedra Blanca, Loreto
Take a tranquil, 4-hour desert drive north from La Paz through towering mountains, and you'll reach Loreto, famed as a resting place of blue whales during February and March. Dive sites here are abundant with marine life thanks to the protected Loreto Bay National Marine Park. The pinnacle of Piedra Blanca is usually explored as drift dives (check out how to master drift diving). Firstly, this site houses a reef wall brimming with tropical marine life, like triggerfish, sergeant majors and angelfish. What's more, in the deeper depths, you'll find striking purple gorgonians and black corals too!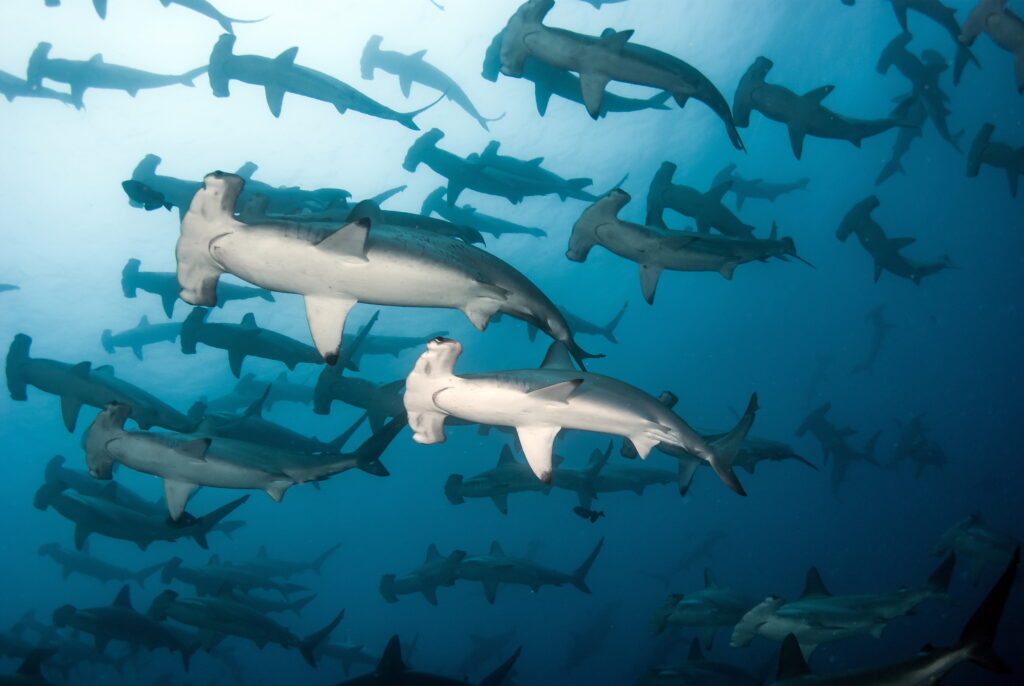 Cabo Pearce, Socorro Island, Revillagigedo Archipelago
Between April and June, Socorro is a play-land for schools of hammerheads, not to mention whale sharks between June and November, making it one of the top diving areas and liveaboard destinations from Baja California. At the Cabo Pearce dive site, the linear rock formation extends from the eastern coast of Socorro island into a moderate current, so this site is best suited to experienced divers. Typically, you'll descend below the strongest flow of current, and await the underwater display.
El Boiler, San Benedicto, Revillagigedo Archipelago
El Boiler is a renowned hive for giant Pacific manta rays in the Revillagigedo Archipelago. The rays tend to gather here thanks to the cleaning station formed by clarion angelfish. Additionally, dolphins, sharks and, occasionally, whales can be spotted here, creating a playground of pelagic species. The topography here involves a small, central pinnacle that begins 6 meters (20 feet) from the surface.
Eager to dive in Baja California Sur?
Schools of hammerheads, giant manta rays and playful sea lions are all too tempting to just jot down on the bucket list. The PADI Travel team are available 24/7 to help you book your next dive adventure to explore Baja California Sur!